International Scientific Conference 

AFE-2024
Fundamental and Applied Scientific Research
in the Development of Agriculture in the Far East
Agriculture Cyber-Physical Systems
November 8-10, 2024, Tashkent, Uzbekistan
Organizers:
Tashkent State Agrarian University, Uzbekistan
Far Eastern State Agrarian University, Russia
Spoken and Written Languages: English, Russian, Chinese.
Scientific partners of the conference
University of Tanta, Tanta, Egypt
Cairo University, Cairo, Egypt
Tokyo University of Agriculture and Technology, Tokyo, Japan
Chubu University, Kasugai, Japan
Showa University of Pharmacy, Tokyo, Japan
Chiba University, Chiba, Japan
Executive Director of the Korean Program of the International Agricultural Center in Uzbekistan, Tashkent, Uzbekistan
UN FAO Representative in Uzbekistan, Tashkent, Uzbekistan
Latvian University of Life Sciences and Technologies, Riga, Latvia
University of Porto, Porto, Portugal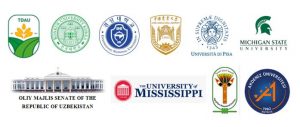 The conference will highlight new ideas on farming processes, new analytical methods that are applicable to a broad range of agricultural systems, new technologies and solutions, which helps agricultural systems to function in the modern conditions of a changing climate and digitalization.
Results of research in the following areas will be presented: software-as-a-service solutions for orchard management, farm management platforms, yield monitoring and estimation, IoTs in farming, water management, smart agriculture machines, eco-friendly plant production products, and eco-friendly packaging. The studies dedicated to field mapping are welcome.
It is planned to hold round tables for professional discussions on determining future directions for advancing agricultural research worldwide.
The thematic sections of the conference focus on the study of interactions between the components of agricultural systems, between their hierarchical levels, between different types of land use systems, and between agricultural systems and the economic environment.
The conference will present the methods and tools for agricultural systems design, estimation and monitoring, which should improve the environmental and economic performance of agricultural systems.
As part of the conference, an exhibition of innovative technologies and equipment is planned, including robotics in the field of precision agriculture, real-time technology, fertilizer and sprayer controllers, robotics, variable rate irrigation, networks and remote sensing technologies, Data management software, etc.
One of the exhibitions will traditionally be dedicated to water management, water management tools and technology weather tracking and forecasting with accurate real-time readings. This accurate data will help farmers when choosing spraying and irrigation modes, as well as when choosing a variety for the next year, which will lead to higher yields and, consequently, profits.
We invite professionals, scholars and researchers in the field of agriculture, as well as heads and top managers of agricultural enterprises to participate in the conference.
Organising Committee